South West Airfields Heritage Trust
"Preserving Aviation History for Future Generations"




From Honiton
Proceed to junction of A30/A35 follow signs to Dunkeswell go through village. Then Turn left on to Airfield. We are about 200 metres down on the right hand side, just past the memorial, which is a large propeller on a stone cairn
From Taunton
Proceed out of Taunton on the A38 Road to Wellington. At the Chelston road roundabout Nr Wellington take second exit A38, West Buckland. Over next roundabout and follow road for approximately 1 mile. Then turn left into Monument Road which then becomes Wellington Hill go over bridge that goes over M5
Follow signs to Hemyock as you get to the centre of Hemyock you will see the Catherine Wheel Pub Turn right in front of the Pub and then follow the road up the hill 4 to 5 miles to Dunkeswell. As you get to the top of the hill you will see the Airfield which is situated on your right . Turn right on to the Airfield at its main entrance .
We are situated about 200 metres on the right hand side just past the airfield memorial, which is large propeller on a stone cairn.
Dunkeswell Airfield was built between 1942 & 1943 by George Wimpey and Co and following its completion it was initially occupied by the USAAF 479th Anti Submarine Squadron and then by the US Navy and was the only US Naval Airbase in Europe. who undertook U boat hunting in the Bay of Biscay.
Our substantial Photographic Archive provides a unique insight to life on the base. Unlike the British, the Americans had access to film and faced very little restriction on what they photographed.
As a result we have been able to collect over many years, what we think is a fantastic selection of over 400 photographs. Mostly professionally taken, including some taken by the Germans, that provide a story-line and window in time that allows us to see what life was actually like and what took place at the Airfield during the second world war.
We have now combined this with official film taken at the time, an historical narrative, uniforms and WW2 artefacts that together, tell the story of the Men and Women who served here. Whether you are a military history enthusiast or just curious,? We think you will find our Airfield Heritage centre fascinating and well worth a visit !
In addition to our photographic collection Come and See :-
How coastal command went about hunting the U boats down including film taken at Dunkeswell showing the Aircraft and the briefings
The Graphic accounts of what took place .

How Ford built a B24 Liberator in 55 minutes!

What happened to Joe Kennedy, brother of JFK

The Uniforms they wore.

Dioramas & Models.

WW2 Artefacts.

Shop
Read about why the Americans came to Dunkeswell and how Churchill, Roosevelt and Eisenhower were involved !!
Opening times
The Heritage centre is open from:
Good Friday to the last Sunday of October (unless otherwise stated)
Thursdays, Fridays, Saturdays, Sundays and Bank Holidays 11am - 4pm
Admission Charges
Entrance to our Heritage centres is by donation.
While Entry to the Exhibition is free We do rely totally on the generosity of Visitors and Sponsors to maintain this heritage centre.
Please Note We are a registered, Not for Profit, Charitable Educational Trust. All our staff are volunteers who are totally unpaid and we are not funded by any commercial organisation other than our corporate sponsors who help us with our Advertising and Marketing
All our running costs are met by public donations
Each Centre costs approximately £40.00 a day to operate
So, please do help us to keep going by giving us a donation so that we can continue to maintain and develop this centre for future generations
Disability Access
There are 5 shallow steps to the building and we have a portable, temporary ramp. Please note that our volunteers may not always be of an age or fitness to assist access.
Free Parking
Children must be accompanied and supervised by an adult at all times. Well behaved dogs are permitted.
GROUPS are very welcome and guided tours are available by prior arrangement. Please see our Airfield Tours & Talks page or call us on 07778 85 77 22
Catering/Toilets
The Heritage Centre itself does not have catering or public toilet facilities
However The Aviator Coffee Bar & Restaurant opens daily and is situated close to the Heritage centre's entrance approximately 100 metres away and has full catering and public toilets facilities. As well as a great view of the aircraft and parachutists who use the Airfield.
The restaurant is open throughout the year, in line with the Heritage Centre's opening hours and has a good selection of 'home cooked' hot and cold food, fresh ground coffee and cakes to round off your visit to the centre. In addition they will happily cater for pre-arranged Groups
Click on Logo below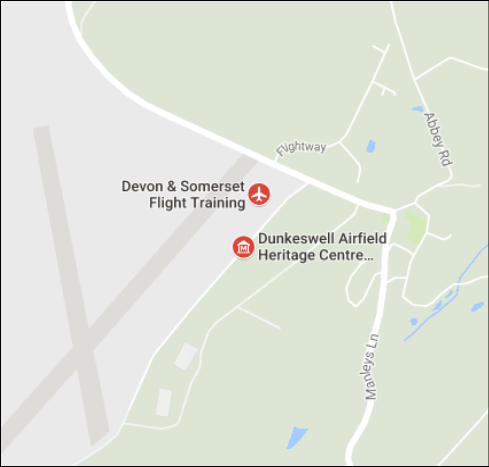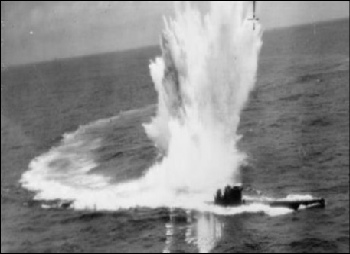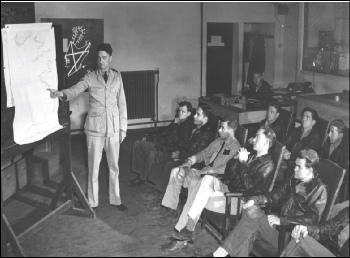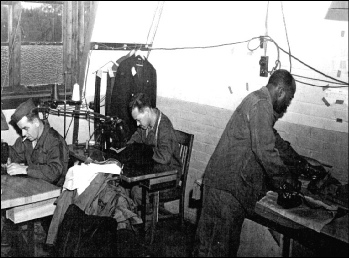 What our visitors say?
G. Barclay Bracknell: "Really Amazing !"
Scott & Barbara, USA: "Wonderful, so much information"
E. Sharman, Honiton: "You have treasured the memories to the Highest degree -well done"
Peter & Sue, Dawlish: "Interesting history, learnt a lot"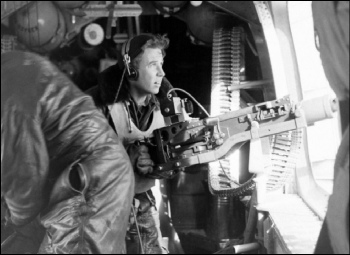 See our Unique Photographic Archive of life on the only WW2 US Naval Air Base in Europe.
Including photographs of U boats being attacked and sunk! Plus our Authentic Replica Uniforms, Films, Artefacts, Mission Narratives Models, Dioramas, WW2 Memorabilia and archive film of the Airfield
How to Find Us Sat Nav Post Code EX14 4LG
Heritage Centre Information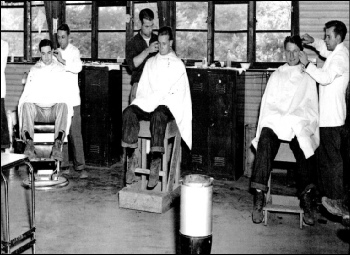 009
Dunkeswell Airfield, Devon, EX14 4LG
01404 890009
Dunkeswell Airfield, Devon, EX14 4LG
01404 890009 Dunkeswell Airfield, Devon, EX14 4LG

Southwest Airfields Heritage Trust © 2017