All three airfields were built after the Battle of Britain: the first at Tricky Warren was started in 1941 and originally intended as an emergency landing ground, initially to be known as RAF Churchstanton.
(It was eventually to be renamed RAF Culmhead, as the original prefix had caused confusion with RAF Church Fenton in Yorkshire).
 According to a local man, Mark Long, whose father had operated a steam roller during the construction of Culmhead's runways, the first aircraft to land there was an enemy plane that had become lost. Long Senior always started his day's work at the crack of dawn by lighting up the boiler on his machine to ensure there was sufficient steam for its operation when the main workforce arrived.
One morning, during this process, he was surprised to see an aircraft land on a partially completed runway.  The pilot emerged from the cockpit and approached the roller driver, seemingly to ask where he had landed.
Long could not understand what the pilot was saying and it was obvious to the German that he could not make out the Somerset burr of Long either and immediately realised that he must have landed in England, whereupon he rushed back to his aircraft and took off again.
 There was a well-recorded incident of remarkable similarity the same year, when a Ju-88 landed at the partly-completed Lulsgate airfield (now Bristol International Airport); but the crew were not so lucky and did not have time to return to their aircraft before they were apprehended and taken prisoner.
The Ju-88 was of the latest type and provided much valuable information to the RAF authorities, who test flew and evaluated it under the auspices of the Enemy Aircraft Flight.
Although Culmhead opened officially on 1st August 1941, fighters from Exeter had been sheltering there from as early as June after a series of bombing raids on their own airfield had resulted in the loss and damage to their aircraft. The first two squadrons to arrive officially were from No 2 Polish Wing, being No's 316 (Warsaw) and 302 (Pozan), equipped with Hurricanes.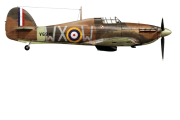 After a month one of the squadrons, No 302, left, to be replaced later that year by another, No 306 (Torun) equipped with Spitfires.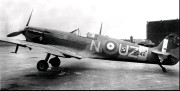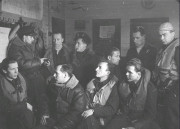 The primary role of the Wing was to defend Bristol and Exeter; but enemy daytime activity was light, so much of the time was spent on convoy escort duties and escorting bombing raids on the Brest Peninsula.
During February 1942, a research flight arrived from Farnborough to conduct cable-cutting trials on barrage balloons over the Pawlett Hams near Bridgwater.  In April that year, another squadron of Spitfires arrived, but left after a month.
During June, No 313 (Czech) Squadron arrived replacing the Poles, who were not sorry to leave, having found the work dull. During October a further Czech squadron, No 312, arrived, thus forming a Wing. This continued the convoy patrols, which were enlivened by hostile fighter sweeps over France; but roles were reversed when they were called upon to patrol and intercept German fighter-bombers making hit and run raids over here.
In June 1943, a year after their first squadron arrived, the Czechs left, having lost several their pilots, some of whom were killed during fighter sweeps over occupied France. They were replaced by No 66 Squadron RAF, which was joined by No 504 (City of Nottingham) Squadron, both equipped with Spitfire Mk Vs.
Not only were these aircraft used for deck landing practice, but according to veteran pilot Gordon Cheesbrough of No 504 Squadron, they also took part later in escorting American Marauder bombers on Operation Nobel. The targets were thought to be VI flying-bomb sites in France.
December 1943 the airfield officially changed names from RAF Churchstanton to RAF Culmhead and was occupied by No's 165 Squadron (Ceylon) and 131 Squadron (County of Kent). Having made many operational sweeps during February, they were replaced by 24 Naval Fighter Wing, comprising No's 894 and 897 Squadrons equipped with Seafire III's, the naval version of the Spitfire.
The Wing was referred to as fighter defence, but in fact conducted operational sweeps in conjunction with RAF Typhoons, launching attacks across the Channel. March 1944 saw the return of No 165 Squadron, now re-equipped with the MK IX Spitfire, staying just a month. During April they were then followed by No's 610, 286 and 587 Squadrons with Spitfire XIV's, fitted with the new Griffon engine. During July, with the battle for Normandy at its height, No's 126, 131 and 616 Squadrons took part in Rhubarb attacks ahead of the ground troops, scoring many successes, particularly on locomotives and enemy convoys.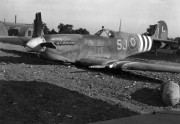 19th June 1944: The pilot of this Spitfire was over Upottery field when he had problems changing from one fuel tank to another. He landed wheels down but when he realised he was going to collide with some parked C-47's he pulled his landing gear up and slid safely to a stop. The markings on this aircraft identifies it as belonging to 126 Squadron RAF Culmhead. A crash landing recorded on this date indicates that the quick thinking pilot was Warrant Officer Hinten.
Thanks to research carried out during March 2014 by Bob Tomlin we now know a lot more about this Spitfire and the Australian pilot who was sadly killed on the 1st of August 1944 whilst operating from RAF Harrowbeer. Aged 21 he had been promoted to Pilot Officer
He is buried in Bath (haycombe) cemetery, Plot 39, Sec H, Row B, Grave 240.
The Spitfire MK989 was repaired and flew again with 453 Sqn until 30th Oct 1944 and survived the war.
By D-Day plus seven (days), they were alighting on landing strips in France.
By the end of the war Culmhead could claim to have been the busiest operational Royal Air Force fighter base in Somerset. It had also briefly operated the first jet fighters, when two Gloster Meteor Mk I's were delivered to 616 squadron on 2nd July 1944 for the first training flights.
(The writer believes these were delivered by road, because as a child he can recall seeing aircraft transporters known as 'Queen Mary's' crawling through Taunton with airplanes concealed under tarpaulins and being protected by armed guards, causing much speculation by the onlookers that these were 'secret weapons').
Grover B Cobb, an American airman who was based at Dunkeswell in 1944, recalled in a letter written 46 years later, his sighting of these strange new aircraft at Culmhead:
"I remember that when I was flying out of Dunkeswell in June and July of 1944 that I used to see a field near Dunkeswell, as I seem to recall, that was the base of some Gloucester [sic] twin-engine jets of the RAF.
On second thought, I believe they were called "Meteors" or something like that. Anyway, they were the only jets the Allies had at that time. I remember, or seem to remember, that their base was to the east of Dunkeswell not too many miles away."
I wonder whether that field could have been Yeovilton?
My recollection as to the exact location of that base is extremely hazy after all these years, but I vividly remember seeing several of them landing there one afternoon as we were returning to Dunkeswell from a Channel flight, and I thought they had lost all their props and were making dead-stick emergency landings.
When I landed I asked our Intelligence Officer about it and he told me they were RAF twin-engine jets. And that is the first time I ever heard of a jet airplane used by our side, even though I had been briefed that the Nazis were using them.
 In August 1946 Culmhead closed to become a top secret radio-listening station during the Cold War period and was latterly operated under the aegis of GCHQ, until the introduction of satellite technology.
The Trust would like to recognise much of the statistical information came from the book Somerset at War 1939-1945 by Mac Hawkins and first published 1988.
Youtube footage John Crech The South West Airfield trust are very grateful for this remarkable filming. In the first footage there is reference to the watch office. It is important to understand this was the original control office and it was sometime before the larger control tower was built.
RAF Signals October 1944.
This  recent photograph sent in by Mr Michael Brown of Exeter may be of interest to other families who have relations who are in this picture. It was taken at Culmhead. The lady second from the right in the back row was Michael's mother Olive Gladys Eveleigh known to her friends as Gladys, she originated from Southampton but spent some years at Bridport in Dorset. It was here that she met her husband,  ??? Brown and they married 1951.  Gladys passed away 2006.  If anyone has other information about this photograph Michael and ourselves would like to share it.
If you read the comments below you will see that Francis Whittaker provided us with a copy of a 1941 Christmas menu at Church Stanton, this is also signed by a small number of those who were present at the time. Some of the signatures are difficult to decipher but those we can seem as though they are British?
Frances of  Westhoughton  Bolton, found this among a box of old letters from a car boot sale in Cheshire a number of years ago and decided to pass it along. We are very grateful because no doubt it is a rare survivor.