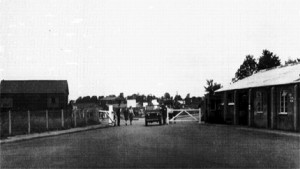 Exeter International Airport was the site of RAF Exeter during World War Two.
With Exeter being one of the targets for the Baedeker Blitz , as Hitler tried to destroy the morale of the British people, RAF Exeter Airport was a very active operational fighter base.
At the front line of air defense in the south west of England, RAF Exeter played a major role during the Battle of Britain.
Pre-War
Exeter Airport was first opened during 1937, and ran regular air services to the Channel Islands and other destinations in the South of England.
There was also a Flying Club formed, and within two years it had a membership of almost 300. Of these, 57 pilots who learnt to fly at Exeter served as pilots during WW2.
RAF Exeter during WW2
With the outbreak of War in September 1939, the Air Ministry requisitioned the airfield. It was enlarged to almost three times its original size, with new runways; the longest of which was just over 6,100 feet.
The first operational unit to arrive on site was a department of R.A.E Farnborough, known as '02′, equipped with Fairey Battles, the Fairey P.4/34, Harrow, Virginia and Wellesley.
One of their tasks was deliberately flying into cables hung from barrage balloons to test wire cutting devices.
June 1940 saw the formation of the gunnery Research Unit at Exeter from 'A' Flight Armament Testing Squadron who were employed in experimental flying using a variety of aircraft including Spitfires, Defiants, a Henley, Hurricane and a Gloster F.9/37. These aircraft tested various types of guns and turrets.
During this time the RAF personnel were housed either under canvas or billeted in the grounds of Farringdon House.
RAF Exeter was officially formed on 6th July 1940 soon after 87 and 213 Fighter Squadrons had moved in.  Although the role of the two squadrons was initially to escort the Royal and Merchant Navy, it was not long before they were playing a major role in the 'Battle of Britain'.
Exeter's first 'kill'
A Hurricane from 87 Squadron brought down an Me110 that had been escorting a force of enemy Stuka dive-bombers over Portland on July 11th. This was the first kill from Exeter; one of three that day.
Although the Hawker Hurricane was considered unsuitable for this type of operation, they also began to fly defensive patrols against night bombers.
Targets around the South West of England were heavily bombed by the German Luftwaffe, and something had to be done to counter these raids.
One of 87 Squadron's Flights was regularly sent to Hullavington, to the east of Bristol' in order to extend the night defences, while the remainder of the  Squadron defended the south coast.
As the 'Battle of Britain' built up, the fighter operations were stretched to their limits at Exeter.
'Adler Tag' (Eagle Day)
A peak arrived on Sunday 11th August when fourteen Hurricanes from the two Squadrons were scrambled at 10.08 to help prevent another raid on Portland. With 70 bombers and 90 escorting fighters this was the largest raid so far mounted against any target in Britain.
During the skirmish 87 Sqn claimed two Ju88's and a Me109 destroyed, but both 87 and 213 Sqns lost two Hurricanes each, and a total of three pilots.
The following day 213 Sqn was sent to intercept another raid on Portsmouth Dockyard, claiming two Ju88's at the cost of two more of its aircraft and pilots.
On the third successive day of heavy air attacks, the fighter aircraft from Exeter were needed further east for the defense of Portsmouth, and claimed three more raiders; but at the cost of yet another two pilots. One from each squadron.
Sunday 25th August produced another hectic day, as Exeter squadrons joined others from Warmwell, Middle Wallop and Tangmere to counter another attack on Portland. 87 Sqn claimed four enemy planes but another three Hurricanes and pilots were lost, one from 87 Sqn and two from 213.
Despite the RAF playing such a prominent part in the defense of England, nowhere on the airport or even in Exeter City is there a worthwhile monument, apart from one small plaque situated within the airport complex for  Polish Squadrons.
With YOUR support, the South West Airfields Heritage Trust aims to rectify this…..
Polish Squadrons at RAF Exeter 1941-43
On 21 September 1940, during the Battle of Britain, the first Polish pilot to be killed flying from Exeter was a member of No. 601 Squadron, F/O J Topolnicki. He was one of 143 Polish pilots who flew in the battle, either as members of RAF squadrons, or in the two Polish fighter squadrons formed, Nos. 302 and 303.
Further Polish squadrons were to be formed in the war and on 26 April 1941, No. 307 Squadron, equipped with Boulton Paul Defiants, arrived at RAF Exeter from Colerne near Bath. These aircraft were fitted with a gun turret and required a crew of two. The squadron was to operate in a nightfighter role. During August, the Defiants were replaced by twin-engined Beaufighter Mk IIFs, which by the end of 1941, had been upgraded to the faster Mk VI.
In the weeks preceding the arrival of No. 307 Squadron, the city of Exeter had been bombed by the Luftwaffe at least on four occasions, causing much death and destruction. RAF Exeter had suffered too and as a result of which, on 9 June, half of No. 307 Squadron's strength, along with half of the Hurricanes of No. 504 Squadron, were dispersed to RAF Churchstanton (later called Culmhead). This was a new, but not fully completed, airfield on the Blackdown Hills situated on the Somerset/Devon border.
On 6 August 1941, No. 307 Squadron was joined at Exeter by another Polish squadron, No. 317, equipped with Hurricane Mk IIs; but these were to be replaced by Spitfire Mk Vs during early December. At the end of March 1942, No. 317 relocated to Northolt, but during its short time at Exeter had managed to destroy at least twelve enemy aircraft for the loss of four pilots killed.
No. 307 Squadron remained at Exeter until April 1943, having had their Beaufighters replaced with Mosquito Mk IIFs in the interim. During their time at Exeter, No. 307 lost 19 aircrew, but had succeeded in destroying many attacking enemy aircraft, as well as disrupting numerous raids by the Luftwaffe. Nineteen Polish airmen now lie buried in Exeter's High Cemetery alongside the citizens who were killed in the blitz on the city.
The Poles of the two squadrons became well known in the locality: they had a reputation for being fearless and always wanting to be in the thick of the action. By the end of the war, the Polish Air Force flying from these shores had grown in number to no fewer than four bomber and ten fighter squadrons.
As a result of the agreements made at the Yalta Conference, Poland fell under the domination of Stalin's Soviet Russia. As a result, there would be no triumphant return to a liberated Poland by these squadrons and by the end of January 1947 they had been disbanded. The majority of the personnel from these squadrons, together with 150,000 Polish soldiers and seamen who had also served under overall British command in World War Two, chose a life of exile, mostly electing to stay in the United Kingdom.
Other nationalities at RAF Exeter.
These colour wartime  films show were made here in the west country of a Czech fighter Wing.
The aircraft code marked NN are that of 310 Squadron who were operating out of RAF Exeter 1942 – 43 along with 312 Squadron aircraft code marked DU that were operating out of Harrowbeer whilst 313 Squadron aircraft code marked RY were based at Church Stanton.  These three Czech  Squadrons had taken over the role of the Polish day Fighter Wing from May 1942 until June 1943 continuing  convoy patrols, and sorties over France plus hit and run attacks on German fighter bombers. These activities were coordinated from the Wing HQ at RAF Exeter.
Other operations from RAF Exeter

RAF Exeter supported many other important operations through out the war; one of the most significant being the role it played during the Normandy D-Day.
The American 440th Troop Carrier Group operated in joint occupation with the RAF during the summer of 1944, when they transported part of the US 101st Airborne Division to Normandy, as part of the Operation Neptune, D-Day invasion of France.
Click the link below for some of the names of the men of 3rd Battalion 506th Parachute Infantry as they Boarded some of the  45 C/47s of the 440th Troop Carrier Group on night of 5th June 1944 on operation Neptune Manifests 3-506 Normandy
RAF Exeter Memorial Project
In an attempt to enlighten visitors and future generations passing through the airport, the South West Airfields Heritage Trust has created a memorial, ensuring the historic integrity of this very important World War Two airfield is explained and maintained.
Some recently acquired photograph's taken at RAF Exeter from May 1942 – June 1943.
Whilst a Czechoslovakian day fighter Squadron RAF 310, were operating from Exeter
These photos arrived by courtesy of Dave Trevor who found them in a job lot at an auction possibly originating from a home in Liverpool.
There is some evidence they may have belonged to an ex RAF Ground Crew member, whose surname may have been Wearne?
Added information and identification has also been provided by Tom Dolezol a specialist historian on the Free Czechoslovakian Air Force.
His website www.fcafa.wordpress.com is well worth a visit.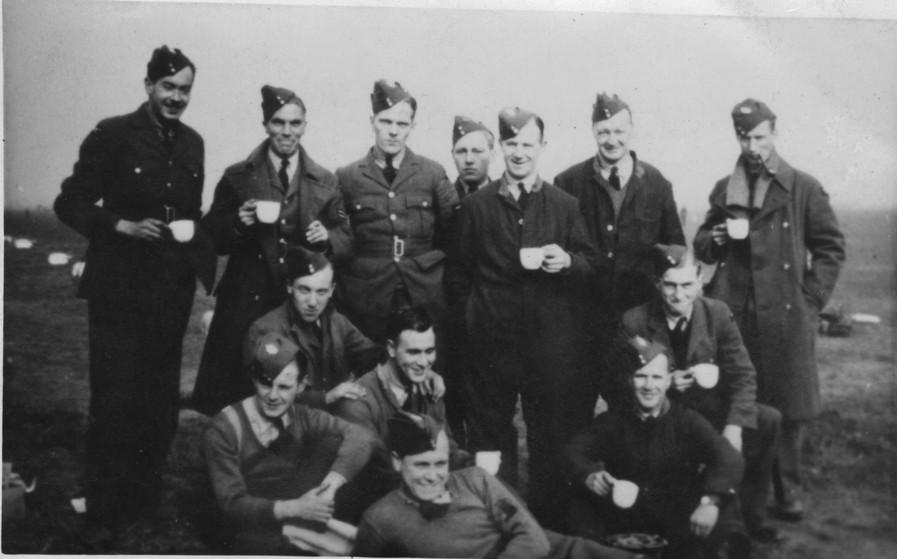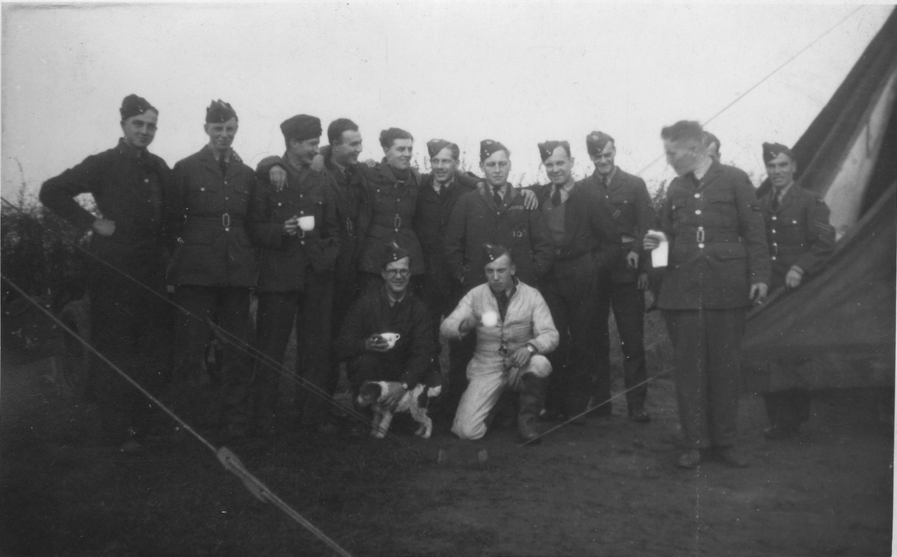 Have worked our way through these 2 ground-crew Photos we cannot identify any Cz airmen in either. As you can see where the airmen are wearing tunics, they carry no shoulder patches with 'Czechoslovakia' on them. These are possibly British airmen who worked as ground crew in 310 Sqn. Tom Dolezol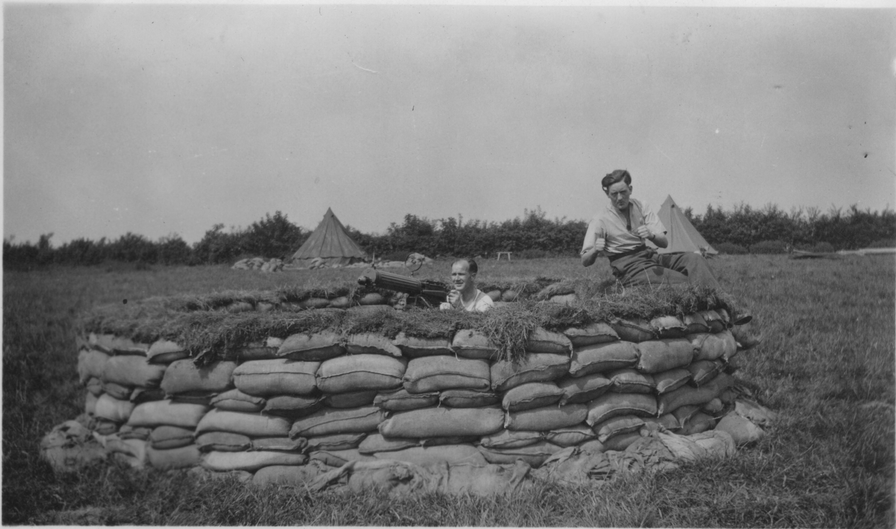 This picture possibly taken during 1942 depicts a recently established anti aircraft pit this was at Heath House Farm. Exeter airfield had been subjected to numerous aerial strafing and bombing since 1940, Situated close to the Exe Estuary it was an easy target for the enemy to find.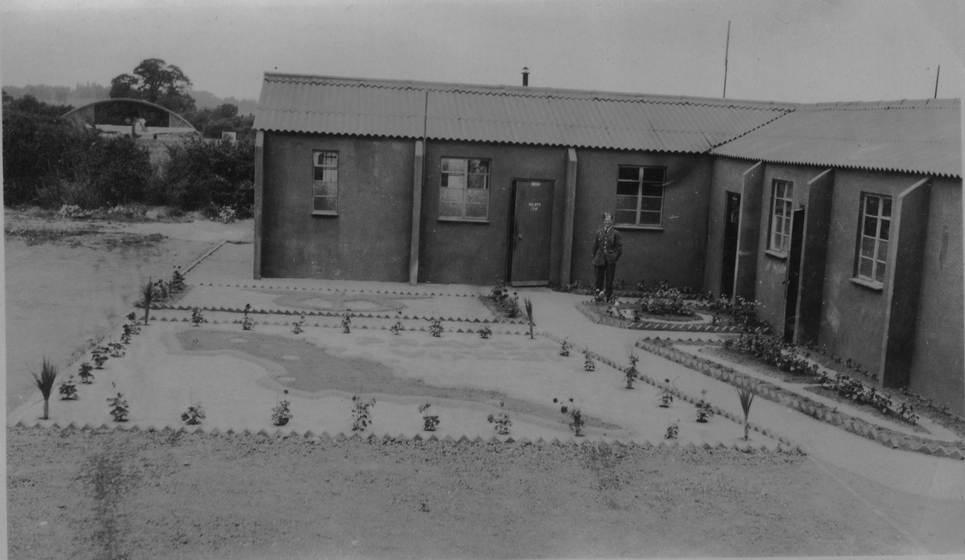 This is an interesting picture and shows the pride of the Czechoslovakians of 310 Squadron, outside of this Squadron HQ building the airmen had created a garden.
Tom Dolizel observed "The rear left hand garden shows the Czechoslovak airman's garden, the front left hand garden shows the outline of Czechoslovakia." The text in the top right hand corner of this garden is 'Pravda vítězí ' the Cz national motto of 'Truth prevails'
In the back ground a 310 Squadron Spitfire is parked in front of a blister hanger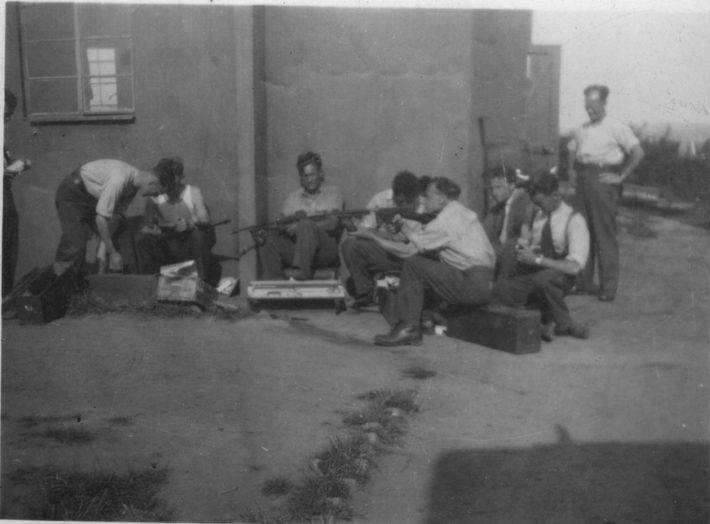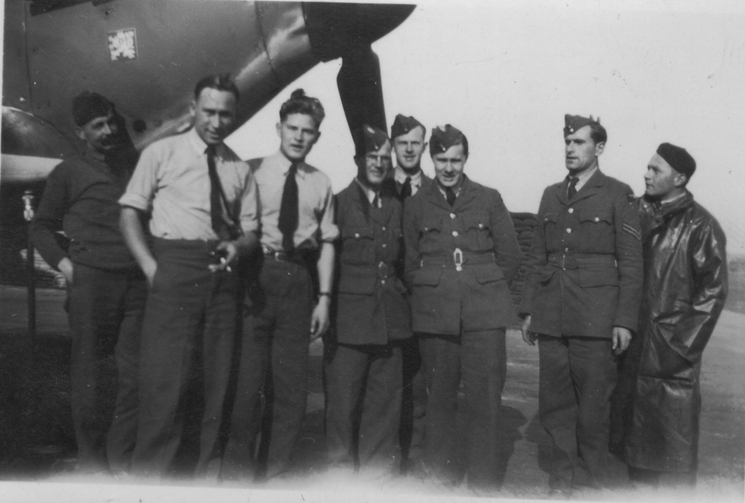 Tom's identification for this picture
1. Lichtner Zdeněk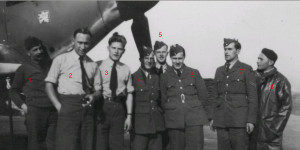 2. Svoboda Svatopluk
3. Fuksa Albert
4. British
5. Tomeš Ludevít
6. British
7. Juřica Alois
8. Šikl Jindřich ?
Number 4 in the photo we think may have been the original owner of the photo as he is shown in a couple of the others and Dave Trevor says there was a photo of the same person among the collection also wearing uniform listed University.
Demobbed RAF Regiment anti aircraft gunner Albert Strong sets up home after the war in one of the airfields disused huts.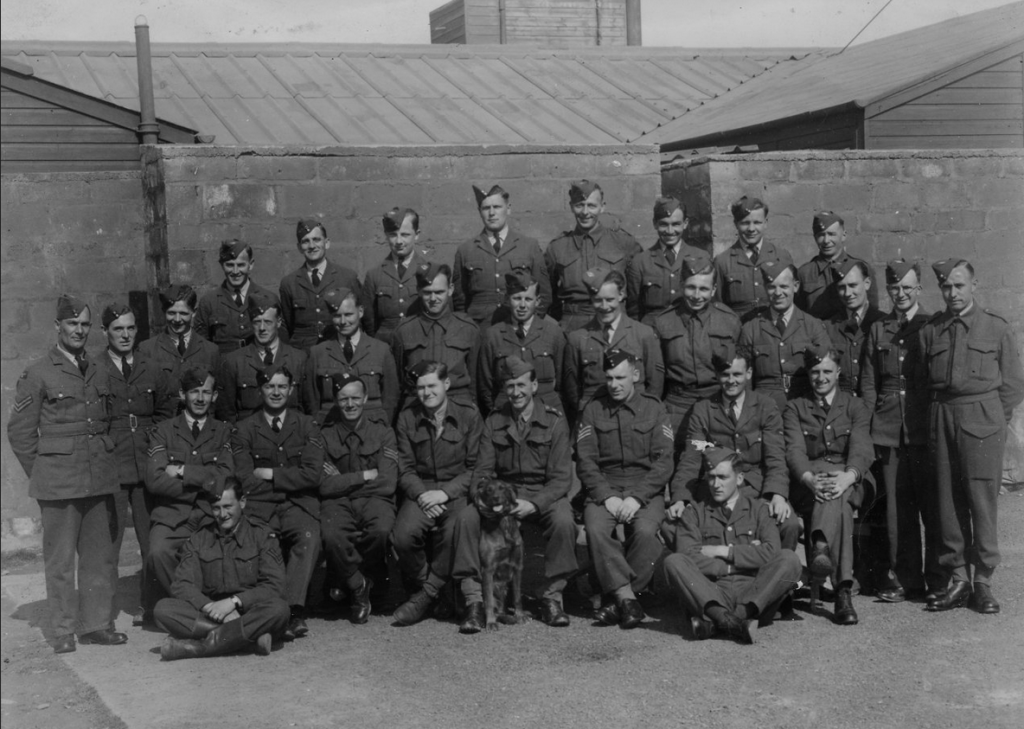 Bert Strong who was in the RAF Regiment is fifth man in  the middle line from the right, he  served as an anti aircraft Gunner at RAF Exeter during 1940-41.
In the picture below also taken at RAF Exeter he is fourth man from left in the middle row.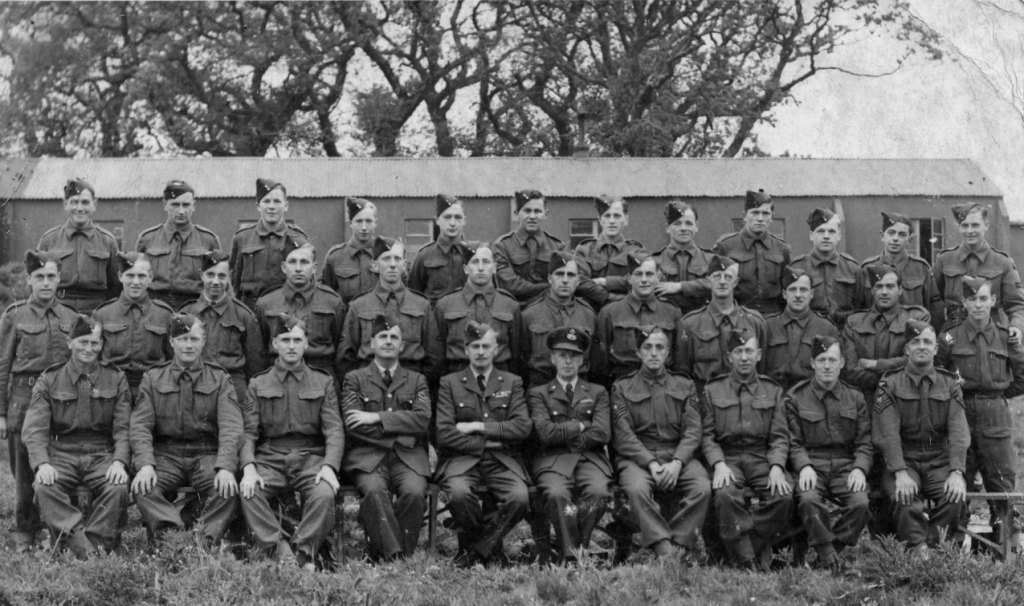 During his service there he met  and married a local girl during 1944: Eileen Coombes who was living at No2 Council Houses, Clyst Honiton near Exeter close to the airfield.      (Better known by the locals as Honiton Clyst back in those times.)
Eileen had the misfortune of having an eighteen year old sister called Wanda killed along with James Pugh (age 26) during an air raid 12th of February 1942, when they were strafed with machine gun fire from an enemy aircraft In the vicinity of the greenhouses at Rockbeare Nurseries where both Eileen and Wanda  worked.
The story unraveled
RAF Exeter through out the war because of its location was heavily involved with the protection of allied shipping and the tracking and possible destruction of enemy intruders in the English Channel. It also played an important role during the Battle of Britain and the liberty of occupied Europe.
The morning of February 12th 1942 was overcast and ideal for the Germans to move warships from Brest Harbour in North western France where they had been under attack from allied bombers.
At that time Exeter hosted two Polish Squadrons No's 307 night fighters with twin engined Beaufighters and No's 317 day fighters equipped with Spitfires.  The attempted escape of these German ships was anticipated, and 317's Spitfires were moved to a satellite station known as Bolt Head near Salcome just along the coast.  Even so the enemy ships slipped up the English Channel undetected and were well clear of the range of 317's Spitfires once discovered.
At eight in the morning three Dornier bombers flew very low up the Exe Estuary with the intention of attacking RAF Exeter or causing a major distraction from our defenders.
The visibility was so poor that they were flying as low as 100ft one aircraft was spotted by an eyewitness strafing a train which was within easy reach of the airfields defences , the plane turned slightly and started dropping bombs that were seen to bounce along the road known as Rockbeare Straight before exploding.  It was start work time for those who were employed at the Rockbeare Glass houses (Nursery) and as a group of them made their way in the Dornier opened fire with its machine guns and Wanda and a fellow worker had their legs amputated by the hail of bullets both  dying of wounds later that morning.
The Dornier then turned back towards the coast and airfield crashing close to Southwood Farm, after the aircraft had been hit by Anti Aircraft fire from aerodrome ground defenses,  it struck a tree, knocking off the port wing tip and hit the ground in a shallow dive, disintegrating over a wide area, portions of the wreckage being burnt out.
All four of the crew were killed and are buried in an Exeter Cemetery.  The other unfortunate victim came from  Ottery St Mary, 23 year old James Pugh . We  also discovered this news paper cutting below.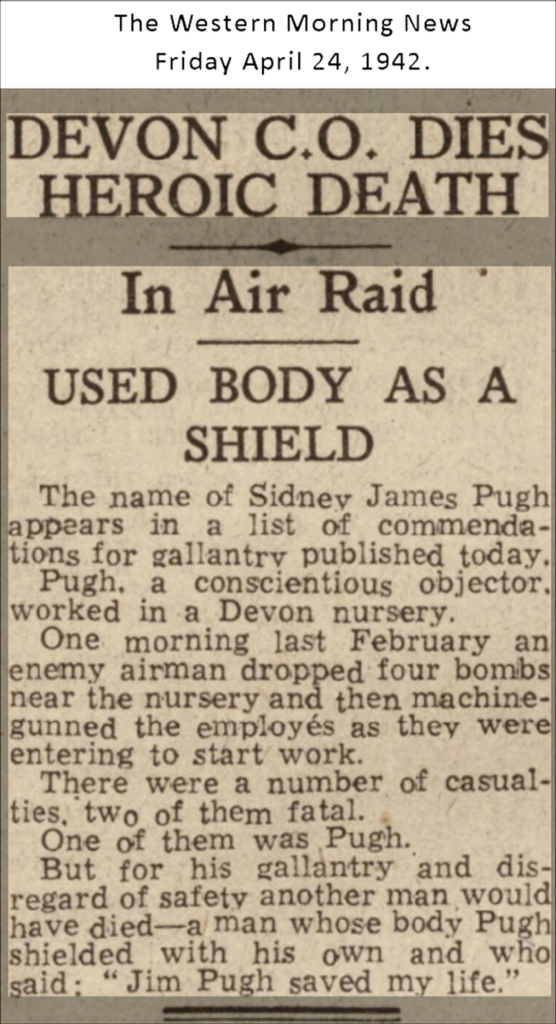 After Airman Bert Strong was demobbed he and his wife moved in with her parents. This proved far from ideal so Bert and Eileen decided to take over one of the disused huts with in the accommodation areas on the airfield.
This is where their son Graham Strong was born, who has given us this information. The hut they lived in was (number 283)  on "Site 3" with a postal address of Westcott Lane, Rockbeare.
Graham say's he believes other families also lived in the airfields disused huts after the war ended. His family were rehoused by the local Council during 1952 having lived in the hut for at least three years.
Graham and ourselves would love to hear from anyone who has any memories or connections with any of these events. Graham has a website where you can learn more about his family and history
including the Coombes family who have connections at Ilminster in Somerset where Wanda was laid to rest 1942. Do go and visit his website www.gstrong.co.uk
Below is the picture of the workers at Rockbeare Nursery. More information to follow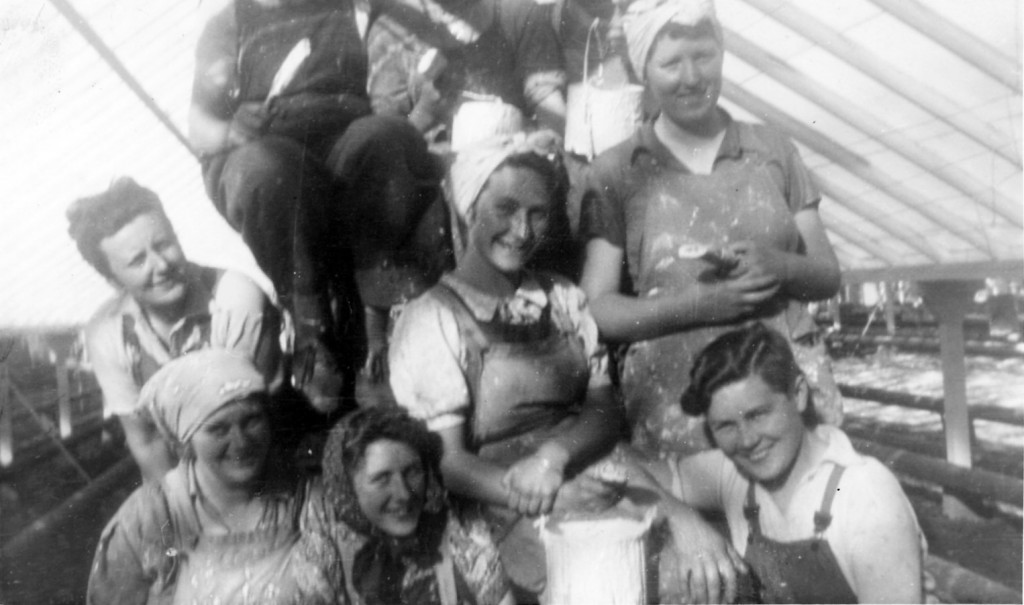 If you have a good look at the first group photo where Bert Strong is featured fifth  in from the right in the middle row, take a close look at the second man in he can also be spotted among groups sent in by Dave Trevor.
Extra Pictures From Tom Dolezol  https://fcafa.wordpress.com/